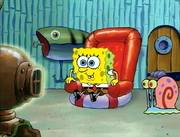 "I was just looking for the sports channel"
~ Springboob on getting caught watching anemone porn
Anemone porn is Springboob's favorite thing to watch on television. It usually features an anemone (or maybe even two, if it's especially frisky) swinging back and forth in a seductive manner. There are several channels dedicated to anemone porn, but the most popular is Anemone TV, based on the gentlemen's magazine Anemone Monthly. Springboob often requires that an anemone porn channel is on or that he has an anemone porn magazine available before he has sex, because he's gotten so dependent on the porn at this point that he can't become sexually aroused without it. It's not known yet whether or not this would quality as anemone porn addiction in your mom's bikini bottom.