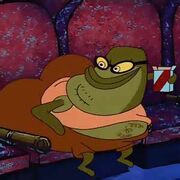 "Because I'm all about that bass, 'bout that bass, bubble bass"
~ Meghan Trainor on Bubble Bass
Bubble Bass is the former owner of the Chum Bucket's former-former design, the Red Robin. He didn't use it as a restauraunt, though- he used it as a giant container for his fingernail clippings. Yeah, nobody likes this guy. His biggest moment was probably his role in the episode Sea Pickles, where he challenges Spongebob and beats him in a Sea Pickle Eating Tournament. He couldn't celebrate for long, however, because he passed out from eating too much. Another notable moment is when he teamed up with his friend Chorbly to create a band called Fat People Who Make Music. It completely failed.
His name is actually pronounced "Buh-bul bayse" because when he walks, his jiggling fat makes an 'untss untss' sound.